Overview
Antonio joined Laner Muchin in 2008 as an associate and has been a partner at the Firm since 2013. Prior to joining Laner Muchin, Antonio was a labor and employment and commercial litigation associate at a mid-size Chicago law firm. He regularly litigates substantial-exposure employment litigation matters as the lead attorney, with a particular focus on defending employers against single-plaintiff and class action wage and hour lawsuits under federal and state wage laws.
A significant part of Antonio's practice involves preventative counseling both public and private employers on a variety of day-to-day employment issues, such as terminations, accommodations under the ADA, FMLA compliance, drafting employment agreements and advising on mass layoffs. In keeping with his approach to minimizing risks through preventative counseling, Antonio has developed extensive management training programs involving non-discrimination and anti-harassment, minimizing legal risks with effective documentation and performance management, and navigating the troubled waters of ADA and FMLA compliance. Antonio has significant experience in representing employers in the hospitality, healthcare and retail industries.
HONORS, MEMBERSHIPS AND PUBLICATIONS
Selected in the 30th Edition of the Best Lawyers in America in 2024
Selected in the 27th Edition of the Best Lawyers in America & Ones to Watch as One to Watch in 2021

Current honoree on the Illinois Super Lawyers list and former honoree on the Rising Stars list

Recognized by Leading Lawyer magazine as an Emerging Lawyer every year since 2015
Recipient of DePaul University's prestigious St. Vincent de Paul Senior Leader Award
Member, Chicago Bar Association
Member, Order of the Sons of Italy in America
Honors & Recognitions

Recognition by Best Lawyers: Ones to Watch is based entirely on peer review and employs the same methodology that has made Best Lawyers the gold standard for legal rankings worldwide.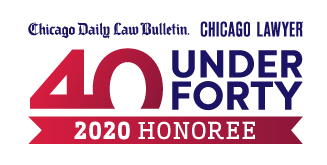 Law Bulletin Media conducts an annual survey to determine who Illinois attorneys believe are the "up and comers" of law in Illinois.
Experience
Experience
Below are representative samples of the types of matters Antonio handles on behalf of Laner Muchin clients:
Defending employers in local and nationwide complex class action wage and hour lawsuits with class sizes of up to 100,000 class members.
Defending employers in single-plaintiff and class action lawsuits brought by the U.S. Department of Labor and the U.S. Equal Employment Opportunity Commission.
Representing employers undergoing regulatory audits by state and federal government agencies regarding their wage and hour practices, and defending employers against wage complaints before the U.S. Department of Labor and Illinois Department of Labor.
Conducting compliance audits of workplace practices, including audits of wage and hour practices (i.e., employee classifications, identifying potential "off-the-clock" work, timekeeping systems and procedures, etc.), and conducting audits of other practices, such as compliance with state and federal laws governing hiring, background and credit checks.
News
Fast Laner
Antonio Caldarone and Pete Gillespie

,

04.24.2023

Antonio Caldarone

,

06.22.2022

Antonio Caldarone

,

06.22.2022

Antonio Caldarone

,

07.02.2021

Antonio Caldarone

,

01.11.2021

Antonio Caldarone, Peter Gillespie, and Elizabeth Rice

,

12.23.2020

Antonio Caldarone

,

12.07.2020

Darin Williams and Antonio Caldarone

,

11.24.2020

Antonio Caldarone

,

09.22.2020

Antonio Caldarone

,

06.10.2020

Antonio Caldarone

,

06.09.2020

Andrew Goldberg, David Moore, Antonio Caldarone, Heather Becker & Chad DeGroot

,

04.02.2020

Heather Becker, Antonio Caldarone, Wesley Covert, Andrew Goldberg, William Wake, Darin Williams

,

03.27.2020

Antonio Caldarone & Wesley Covert

,

03.22.2020

Antonio Caldarone

,

03.22.2020

Antonio Caldarone & Elizabeth Rice

,

03.09.2020

Antonio Caldarone

,

10.10.2019

Antonio Caldarone

,

07.29.2019

Antonio Caldarone 

,

02.20.2019

Antonio Caldarone

,

06.29.2018

Antonio Caldarone

,

06.29.2018

Antonio Calderone

,

09.13.2017

Antonio Caldarone

,

01.30.2017

Antonio Caldarone

,

11.29.2016

Antonio Caldarone

,

07.14.2016

Antonio Caldarone

,

04.20.2016

Antonio Caldarone

,

03.29.2016

Antonio Caldarone

,

10.05.2015

Antonio Calarone

,

10.05.2015

Antonio Caldarone

,

08.05.2015

Antonio Caldarone

,

07.01.2015

Antonio Caldarone

,

03.31.2015

Antonio Caldarone

,

03.31.2015

Antonio Caldarone

,

02.17.2015

Antonio Caldarone and David Moore

,

02.06.2015

Antonio Caldarone, Wesley Covert, and David Moore

,

01.20.2015

Antonio Caldarone, Wesley Covert, and David Moore

,

01.20.2015
Education
Chicago-Kent College of Law, J.D., with honors, 2005
DePaul University, B.A., cum laude, 2002
Admissions
Illinois
U.S. Circuit Court of Appeals for the Seventh Circuit
U.S. District Court for the Northern District of Illinois
U.S. District Court for the Central District of Illinois
U.S. District Court for the District of Colorado
U.S. District Court for the Eastern District of Michigan